Youth Recreational Indoor Soccer
Fall Season 2019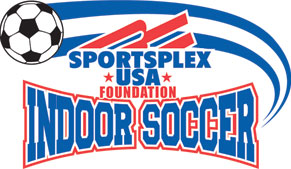 In our program, every player is a winner!
Fall 2019 Season

Saturday, October 19th to Saturday, December 14th

Sportsplex USA Foundation offers youth recreational indoor soccer leagues for boys and girls ages 6 to 10 of all playing levels. Our youth recreational leagues are designed to offer children a positive soccer experience by focusing on fair play, sportsmanship, fundamental skill training, understanding of the game, a healthy lifestyle and teamwork! All children will have the opportunity for equal playing time and to learn the game by experiencing different positions and playing time. All teams are coed and assembled by Sportsplex USA Staff Members. All teams are coached by trained and committed volunteers. If you are interested in serving as a volunteer, please contact Soccer Director, Sean Scott at sean.scott@sportsplexusa.com or 858-679-4000 x317.

ALL GAMES PLAYED AT SPORTSPLEX USA POWAY
12349 McIvers Court
Poway, CA 92064

LEAGUE FEES INCLUDE:
-8 Regular Season Games (One-hour each)
-8 weekly practice sessions. Timeframe for practices vary. Please select your availability when registering for program – (Mon-Thu 4:30pm-5:30pm)
-Player Jersey
-End of Season Award for each player

AGE DIVISIONS / GAME DAYS / GAME TIMES (Approximate and subject to change)
Coed 8 & Under / Saturday's / 12:30pm - 1:30pm
Coed 10 & Under / Saturday's / 1:40pm - 2:40pm
Coed 12 & Under / Saturday's / 2:50pm - 3:50pm
Game times are subject to change and are based on registrations
Ages are determined as of registration deadline

YOUTH RECREATIONAL SOCCER RULE BOOK - Click HERE

DEADLINE TO REGISTER
Friday, October 4, 2019

MANDATORY NEW PLAYER SKILL ASSESSMENT
All NEW players are required to attend assessment day
New players are defined as those who have never played Sportsplex USA Foundation Recreational Indoor Soccer - This includes those who only played Mighty Mite Soccer

Saturday, October 5, 2019 - Please arrive to Sportsplex USA Poway at the time listed below:
Coed 8 & Under / 9am
Coed 10 & Under / 10:10am
Coed 12 & Under / 11:20am

FIRST PRACTICE
Week of October 14, 2019 to October 18, 2019
Practice times start at 4:30pm and end at 5:30pm (one per week / M-Th)
Sportsplex USA Foundation will make every attempt to accommodate practice day/time requests.

FIRST GAME
Saturday, October 19, 2019
NO Games - Saturday, November 30, 2019

SEASON ENDS
Saturday, December 14, 2019

FEES - SPECIAL INTRODUCTORY RATE!
$49 per player - If registered and paid ON OR BEFORE September 27, 2019
$59 per player - If registered and paid ON OR AFTER September 27, 2019
All league fees must be paid in full to complete registration. Click HERE to Register Online. Note: You must create a parent account and register your child online. If you have any difficulty, please contact Youth Indoor Soccer Coordinator.

EQUIPMENT REQUIRED
Children should wear athletic shoes (cleats are optional) and comfortable shorts. Jersey will be provided. Shin guards are required.

VOLUNTEERS NEEDED!
Parents are strongly encouraged to volunteer as Coaches, Assistant Coaches and Snack Parents. Coaches will receive assistance from Sportsplex USA Staff.

As an added incentive, Volunteer Head Coaches will receive a FREE registration for their child. There is ONE head coach per team. All Coaches will be chosen by Youth Recreational Indoor Soccer Coordinator based upon practice availability and experience. Note, all coaches must pay full amount for league fee at time of registration. If you are selected as a youth coach, you will receive a full refund within two weeks.

Coaches are responsible to communicate weekly with their team via email and phone and to attend all scheduled games and practice sessions. Past coaching experience and/or soccer experience is not required. Sportsplex USA staff will provide all coaching materials (Rulebook, Sample Drills, Coaching Techniques)

For more information, please contact Soccer Director, Sean Scott at 858-679-4000 x 317 or sean.scott@sportsplexusa.com

SPORTSPLEX USA ENTRANCE POLICY
A $3.00 entrance fee is charged to all patrons 16 years or older. In return, you will receive a token redeemable for $3.00 towards the purchase of any beverage in our on-site Sports Pub. Applicable during Friday game days. You will not be required to pay entrance fee during weekly practice sessions.